I had an order for a couple of tea towels using a bunny image last week. This one: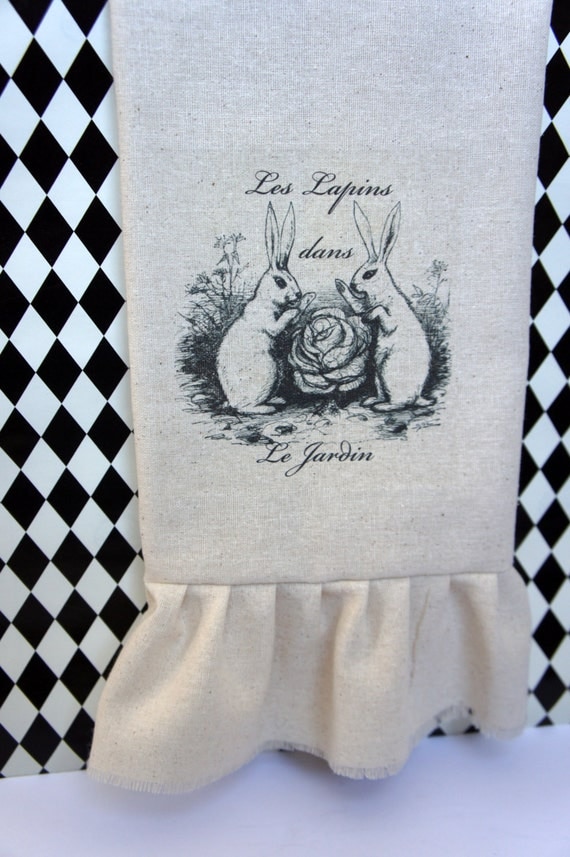 Sometimes, even when you use "the best" transfer paper, the image doesn't always transfer well. That was the case with this particular towel. I got my towel order done properly and sent off, but I hate having to throw away the fails. This one wasn't too bad and I thought I might try to dress it up a bit and keep it for myself.
I decided to use a sample fabric I have had for some time in my fabric stash as the ruffle, rather than doing the usual Osnaberg ruffle I add to my tea towels. As a point of interest – I sew a line near the bottom of the ruffle, so that any fraying will stop at that point. I do this on the Osnaberg ruffles especially, because Osnaberg is prone to fraying.
This fabric has a pretty faded look to it.
Here it is hanging on my stove (just for decoration). Although the image didn't totally transfer the way it should have, it still makes for a pretty tea towel to use for my Spring and Easter decorating.
Since I love bunnies, and have so many out all through the year, I will probably pull this towel out to display all year long, too.
So glad I was able to (somewhat) save this towel fail!
Along the same ruffle lines, I had made up this towel with what looks to be an old ad for toile fabric.
I just had to add some toile in, so this towel has a double ruffle of a black and white toile, as well as a little bit longer Osnaberg ruffle. This is currently in my Etsy.