Being a part of the Etsy community, not only as a seller but as a customer, I have come across many talented individuals. With this series, I hope to introduce you to some of these creative people, finding out where they find their inspiration, and a little bit more about them.
Happy Sunday morning to you! It has been brisk and cold here (with some flurries intermittently sneaking in) this week. I have been blessed to suffer my first cold of the season. I was thinking that with six weekends of shopping until Christmas, all of the shops I have featured in my series would be wonderful places to purchase holiday gifts. Faith Adams Ceramics are no exception and would make for beautiful holiday or hostess gifts.
My name is Faith Adams and I live in the Hudson Valley of New York with my three cats Lucius, Julius and Titus. I've been an artist since the age of three when, after giving her a particularly fine drawing of a unicorn, my mother told me I was, indeed, an artist. I started working with clay ten years ago as I was completing my bachelor's degree in art history. When I finished my education I decided I could not give clay up, so I cleared out a corner of my parent's garage, bought a used wheel and pulled an old kiln out of a dumpster (well, a friend did) and went to work.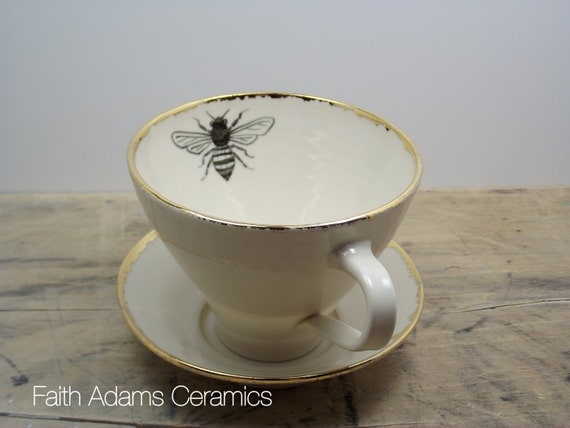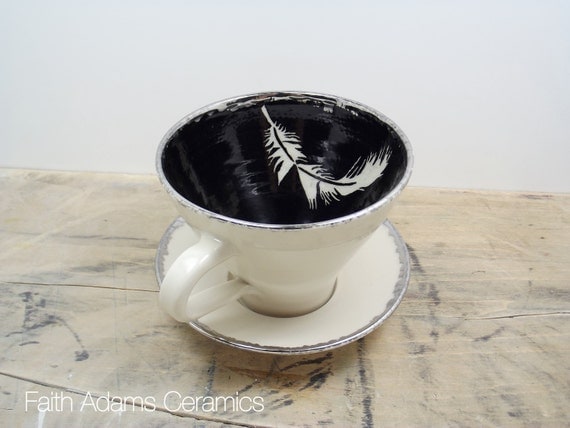 I began selling my work on Etsy after I had some success selling my work locally at a couple of shops, fairs and shows. I didn't place too many expectations on the endeavor, I decided if I had one order at the end of the first month, that would be great. I ended up with four. So I kept going. The positive response to my Etsy shop continues to surprise and delight me. I've shipped my work all over the world, Canada, Australia, Japan, the UK, and Europe. That is kinda crazy.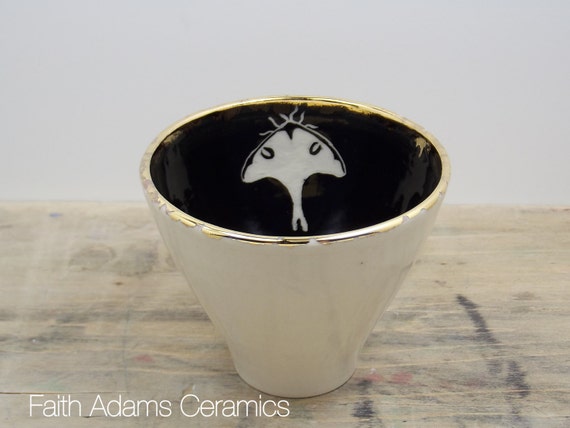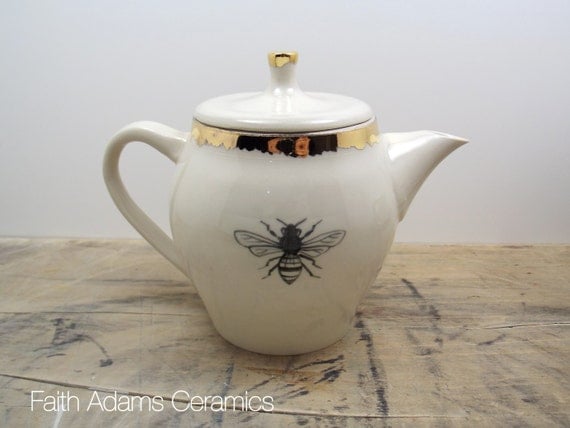 Inspiration for me comes from strange places. The death of my aunt inspired me to start painting bees, my mother inspired me to start painting butterflies and the love of drawing shiny objects inspired me to paint handcuffs and keys. I find a lot of inspiration lately from contemporary jewelry, of which I have a large collection. I love hand made pottery, but even if I'm in a big box store I tend to check out contemporary manufactured pottery and take note of features that may appeal to me and why.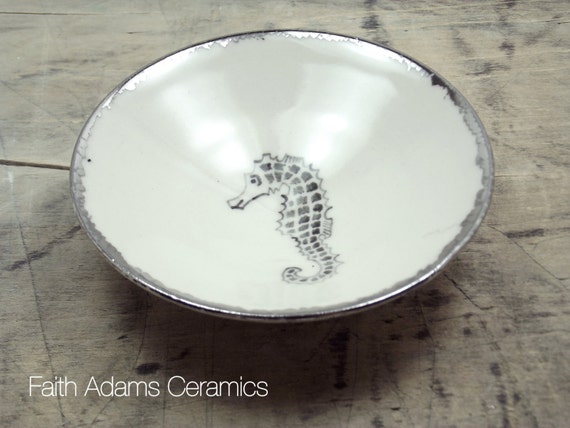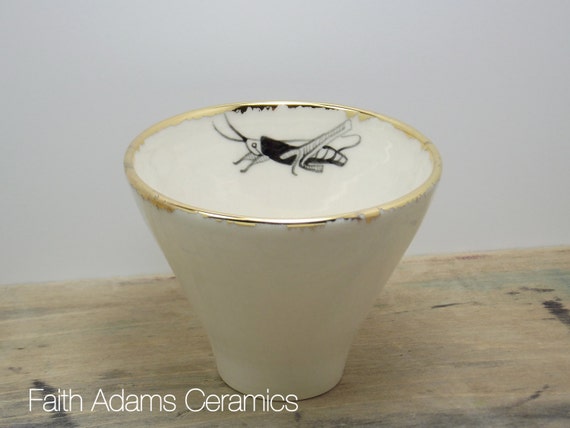 Mostly, I'm the chick who paints bugs and weird objects in pottery. I don't love bugs, but I love the reaction people have to the bugs violating the interior of the pottery. I love the contrast of an elegant teacup with something subversive chilling out just inside the lip. I love the contrast of the white and black, silver and gold palette. I love that I get to design in three dimensions when I throw my pottery, and in one dimension when I paint the interior designs. I love the rhythm and structure of throwing the same form over and over and refining it after months and months. I love turning mud into something lovely, elegant, and a little weird that you can hold in your hand and drink your morning coffee out of. To me, that is also kinda crazy.
Just beautiful creations, Faith! I think the only way I would hold a bug in my hand is on your pottery. You can visit Faith's Etsy shop here.